Department Head: Dr. Michal Zelcer-Lavid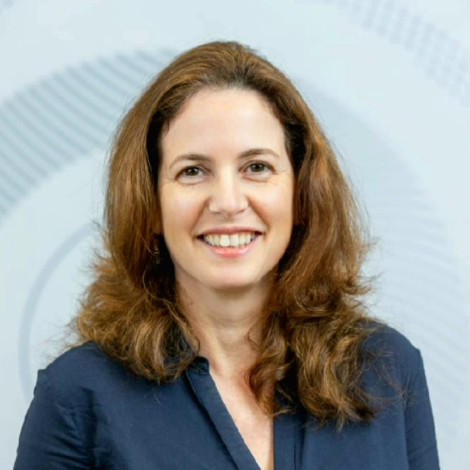 Dr. Michal Zelcer-Lavid, Head of the Multidisciplinary Studies in the Humanities 
BA in Asia Studies, Anthropology, and Sociology, Tel Aviv University
PhD (direct track) in Asia Studies, University of Haifa
How many times have you been asked: "What will you do with a degree in humanities?" How have your answers evolved over the years, and what is your response today?
That question keeps surprising me. I don't think that we, as humans, "should" do something with our degree besides gaining an education that will provide us with the ground for our development and growth. Throughout the years, I have witnessed how students graduate and evolve in many different directions. That's why when I'm asked: "What can you do with a humanities degree?", my answer is: "Whatever you want."
Asia Studies is a diverse field that equips you with a foreign language and profound knowledge of culture, economics, and history. Asia Studies opens doors and vast horizons; for me, there was no hesitation, and even as an undergraduate, I knew I wanted to study and research this field.
What attracted you to the field? And why specialize in Asia Studies?
Like many Israelis, I, too, went on the customary backpacking trip after army service (somewhere in the mid-90s). The cultures and people I met on this journey left a strong impression on me, and while traveling, I started reading and inquiring about local religions and the history of South Asia. Upon my return, I enrolled in Asia Studies and felt I was right in my element. The combination of humanities (history, religion, culture, and language) with the social sciences (politics, economics, media, and society) offers a broad and profound understanding of Asia and allows one to develop not only knowledge but also critical thinking, perception of language, cultural tolerance, and other similar skills and values. In fact, in the global and developing world we are living in, the question is, how can you not learn about Asia?
Tell us an anecdote from your academic life that can reveal something about the nature of research in the field.
Many years ago, while doing research in the north of India, I interviewed exiled Tibetan authors. In one of my meetings with an elderly Tibetan author who had lived in India for many years, I asked him about some of the writers active in Tibet today. I felt my question stirred up deep emotions in him. He did not know them all but had mixed feelings about them. On the one hand, they are his people; on the other hand, he regarded them as collaborators with the Chinese. When he tried to explain this complexity, he burst into tears, and I was stunned and sorry that I had made him sad. This meaningful meeting honed my understanding of the complexity of fieldwork and qualitative research, especially the recognition that the fundamental, pointed questions that we ask deal with human beings and their life, and not only with theoretical knowledge.
Which academic studies do you think fit best with Asia Studies?
Asia Studies are compatible with any other field of knowledge, so the proper combination depends on every student's interests and aspirations. The classic combinations are Asia Studies with History, Political Science, or Middle East Studies (especially for those interested in joining the defense-related professions). Geography and Asia Studies are also a relevant and intriguing combination. Environment and Climate Sciences are on the ascent in Asia and present an attractive option. Another unique and practical combination is Asia Studies with Data Science.
What distinguishes the Multidisciplinary Studies in the Humanities at Bar-Ilan University?
The multicultural atmosphere. Throughout the year, we conduct events and celebrate Israeli and Asian holidays. For example, on Hanukah, we light candles and hold dreidel (spinning top) competitions with Chinese students (and, as it went, also sing karaoke). On Passover, the Chinese students sit at the Israelis' Seder tables. On the recent Chinese New Year (2023), the Chinese language teacher Ms. Zila Fu Wang hosted her students to a traditional Chinese feast at her home. The students ate noodles that symbolize longevity, rice cakes that symbolize abundance and prosperity, and a variety of delicacies that Zila had personally made for them.
What are the most important tools or abilities for those specializing in the humanities?
The knowhow to ask the right questions. As of their first year, I teach my students how to phrase research questions, even in the small assignments, and throughout their studies, I get to see how they fine-tune their questions more and more, so they will evoke creative, critical, and analytical thinking.
Peeking into your workbag or study, what interesting, perhaps surprising, object might we see there?
My study is filled with memorabilia I have collected over years of traveling Asia and mainly China. Today, you can find on my table an ornamented Korean china teacup of fine quality originating on the South Korean Island of Jeju.